All swimmers must take a shower before entering the water.
Taking a cleansing shower before entering the pool helps to keep dirt and germs out of the water.
Hair products and skincare products such as lotions, cologne, and make-up will cause chemical imbalances in the pools.
---
Water Slide 
*Water slide is open during family swim time on Saturdays & Sundays and is NOT open during the week Monday-Friday.
All riders must be a minimum of 48 inches in height to utilize the water slide per manufacturer and insurance regulations. Pool staff can assist in measuring a rider if they are unsure.
Only 1 rider at a time. No trains.
Feet first entry only (no spinning. Sitting or laying on back only. No swinging on top bar to pick up speed.
Do not stop yourself while going down the slide.
Exit the slide dump area immediately after exiting the slide.
No swimming or playing in the slide area.
No one is allowed to wear jewelry, watches, lifejackets, or goggles while riding the slide.
---
Lifejacket Policy
Personal lifejacket may NOT be brought into the Aquatics Center.

This helps us to keep our pool chemicals at the required level, and our filters clean by
reducing cross-contamination. Please feel free to use jackets provided by the YMCA.

Lifejackets are only to be used in the shallow water / zero-depth pool. They are NOT allowed in the lap lane pool, spa, or on the slide.
A parent or guardian must accompany a child with a lifejacket on into the water and always remain at arm's length of the child in the water.
Lifejackets must fit properly with all straps properly secured.
Failure to follow the above rules may result in removal from the facility.
---
Swim Attire
Please follow the guidelines below to keep all swimmers safe and our pools healthy.
EXAMPLES OF APPROVED SWIM ATTIRE: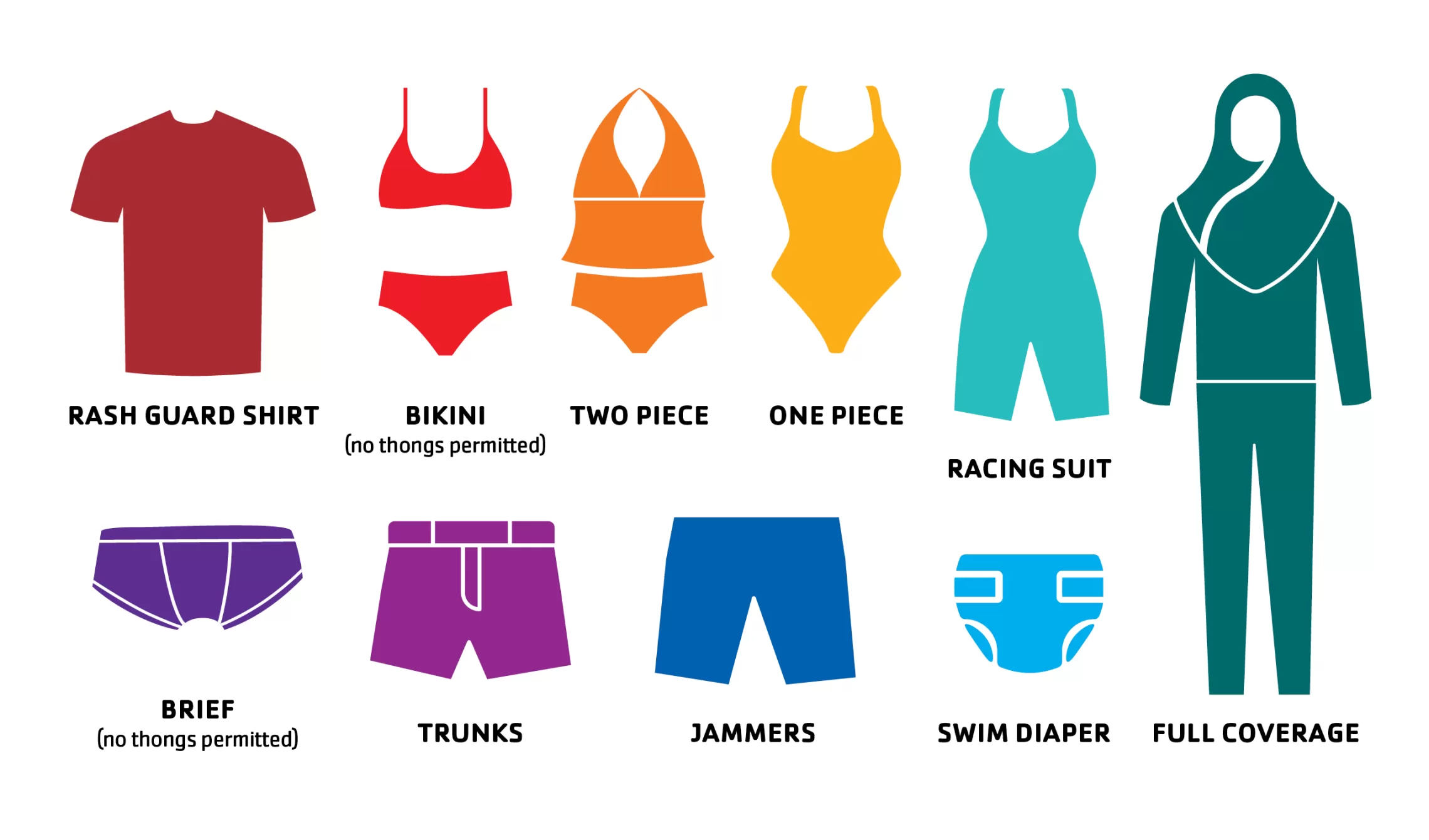 Swimwear must be clean and designated for pool use.
The YMCA does not allow swimmers of any age to enter the pool in clothes.
Swimmers must bring a change of clothes specifically designated for the pool use.
Swimsuits must not be transparent.